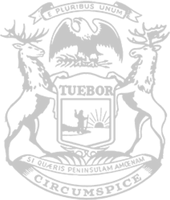 State Rep. John Damoose, front right, and state Sen. Wayne Schmidt, back right, stand with the Sault Area High School girls swim and dive team on the steps of the state Capitol on April 14, 2021. The team won the UP championship in March.
Rep. Damoose welcomes swim and dive champions to the Capitol
State Rep. John Damoose today hosted the Sault Area High School girls swim and dive team in Lansing to recognize their victory in the 2020-2021 Upper Peninsula finals.
"The Blue Devils gave their all and came out on top," said Damoose, of Harbor Springs. "It is a privilege to welcome these girls to the state Capitol and recognize their success, and I am confident the character qualities they demonstrate in their athletic endeavors will undoubtedly continue to bring success in the future."
The team's success comes in spite of the fact that Sault Area High School does not have its own pool. Swimmers trained in local lakes over the summer.
In March, the 14-member team won its first Michigan High School Athletic Association Upper Peninsula championship in school history. Three previous teams had been runners-up.
Aliah Robertson concluded her high school swimming career with solid achievements, setting two new UP meet records. Joanne Arbic took first place in both the 50-yard and 100-yard freestyle events. The relay team of Robertson, Arbic, Anna Hildebrand and Julie Innerebner set records in the 200-yard medley and 400-yard freestyle. Divers Brianna Jones and Olivia Martin placed second and sixth at the meet, respectively, although they had no access to a diving board and were unable to practice all season.
Damoose presented the team with legislative tributes signed by himself, state Sen. Wayne Schmidt and Gov. Gretchen Whitmer.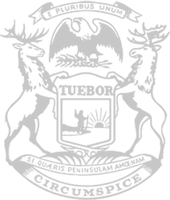 © 2009 - 2021 Michigan House Republicans. All Rights Reserved.
This site is protected by reCAPTCHA and the Google Privacy Policy and Terms of Service apply.